Health and Wellness Promotion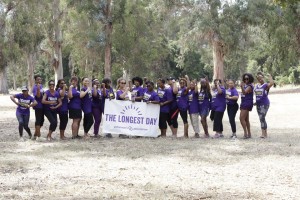 Health promotion has been a long-standing commitment for our members. For the past few years we have collaborated with the Alzheimer's Association's The Longest Day campaign, including participating in a full day of activities surrounding the 6 pillars of a "brain-healthy lifestyle"–strategies for Alzheimer's prevention: regular exercise, healthy diet, mental stimulation, quality sleep, stress management, and an active social life.
We have also supported the efforts of the National Alliance on Mental Illness (NAMI) by increasing mental health awareness in the African American community through a site visit with NAMI San Mateo County, information booths, and participation in the annual NAMI Walk.
The Ivy and Pearls Foundation has also been a long-time partner with the African-American Community Health Advisory Committee (AACHAC), supporting their annual Soul Stroll for Health and Women's Health Conference events.
Academic Excellence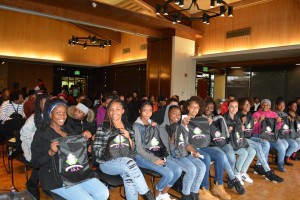 The Black College Awareness Fair is our signature educational event. Each year, the Ivy and Pearls Foundation funds an annual college fair event that hosts over 300 middle school and high school age youth and their parents. This event features the importance of attending college, information about Historically Black Colleges and Universities, and other information for students and parents to be informed about higher education. For more information on this program, visit BCAFair.org.
Providing scholarships to stellar high school students has been a key mission for the Ivy and Pearls Foundation. Over the past 10 years, we have selected 5-10 students (per year) for their academic excellence. To date, the Foundation has provided over $50,000 in scholarship funds to stellar students in the Bay Area.
Students who have been awarded scholarships have gone on to attend the following colleges and universities:
Harvard University
Howard University
Spelman College
Stanford University
University of California, Los Angeles
University of California, Santa Barbara
University of Southern California
Economic Empowerment
Members of the Ivy and Pearls Foundation engage with the community, particularly the youth, in practicing sound economic practices. Over the years, our members have provided economic empowerment workshops to community members at the East Palo Alto YMCA, teaching them to earn, invest, and save as a means to financial independence. Our members have also been involved as judges and supported in the BUILD Youth Business Plan competition for young entrepreneurs in the Bay Area.
We also continue to support, publicize, and patronize, minority, women-owned businesses in the community, oftentimes using their services during our community service events.
Civic Engagement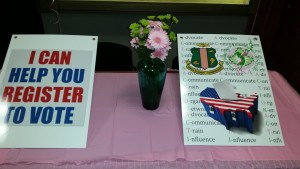 The Ivy and Pearls Foundation is paramount in connecting the community to current civic events. For many years, our members have actively encouraged citizens to exercise their right to influence policy through voter registration drives and information booths during both local and national elections. We also involve our members in discussion and brainstorming of relevant ideas during organized watch parties for political events, such as candidate debates and state of the union addresses.
Our members also participate in an annual event held over a 2-day period at the State Capital in Sacramento. This event offers our members the opportunity to directly engage and influence the decision makers throughout the state regarding issues of importance in our communities, especially those pertaining to civil rights, women's equity, and education.
Arts Appreciation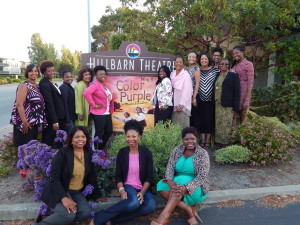 Hosting an evening with the arts has become a staple for our Foundation. Increasing art awareness and appreciation is essential to creating a well-balanced person, and, in turn, a better community of people. Our members have joined together to host nights at the theatre, featuring the Broadway production of "The Color Purple" at the Peninsula's Hillbarn Theatre and a performance of "The Mountaintop" at the Lucie Stern Community Theatre in Palo Alto. Proceeds from the events have benefited the youth mentoring and health programming, the Alpha Kappa Alpha Educational Advancement Fund, and scholarships on behalf of the Ivy and Pearls Foundation. Our members will also host an evening of Sip & Paint at the paint studio Create Mix & Mingle in San Mateo to raise funds for our upcoming community projects.
The Ivy and Pearls Foundation regularly partners with Rho Delta Omega Chapter to host the signature fundraiser, the Wine, Croquet & Music Charity Fundraiser. This event began in 2005 and is a daytime event featuring a croquet tournament, wine tasting, line dancing, silent auction and delectable foods, all in the name of raising funds for community projects. The Wine, Croquet & Music Charity Fundraiser is held annually during the month of September at a selected beautiful location in the Bay Area.
Environmental and Social Justice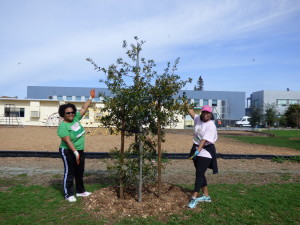 Through our environmental efforts, the Ivy and Pearls Foundation has joined with both Canopy and the Arbor Day Foundation to provide tree planting, plant maintenance and care for young school trees on the campuses of Green Oaks Elementary School, Cesar Chavez Academy, and Stanford University in order to help create healthier communities. Our members also take ownership in our environmental practices by ensuring recycling and composting during our community events.
The Ivy and Pearls Foundation has always, proudly, been involved with matters of social justice within our surrounding communities. We have partnered with local organizations, such as the Opportunity Service Center to provide rain ponchos and gloves for low-income and homeless individuals and families in Palo Alto, as well as Neighbors Helping Neighbors to collect, organize, and deliver canned goods and dry foods to families in need.